Appeal takes community behind the scenes of vital service.
Every mission, every day, here for you.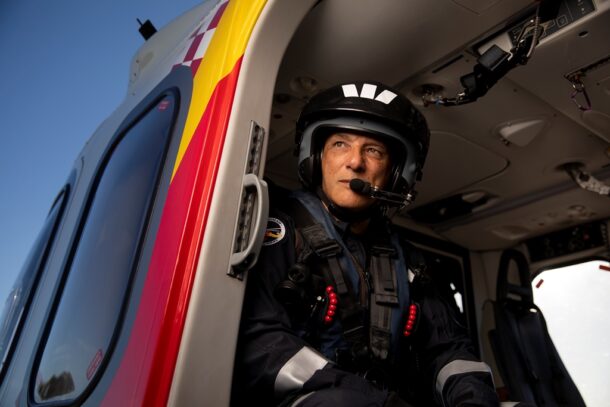 11th, May, 2021
The Westpac Rescue Helicopter Service launched its annual End of Financial Year Appeal today, with the Service giving the community a unique 'behind the scenes' perspective with NSW Health Doctor Rob Bartolacci.
Dr Rob who is a member of the on board Helicopter Critical Care Medical Team, was humbled to front the Appeal and at the same time, appreciated the opportunity to share the vital role the Service plays in saving lives across Northern NSW.
"It's hard to imagine a person that hasn't been touched directly or indirectly by the Westpac Rescue Helicopter," Dr Rob said.
"The outcome for our patients is our primary goal. We take their best chances of survival to them, and without this their outcomes would be significantly different."
"We have the world's most technically advanced aeromedical aircraft, that's basically a mobile intensive care unit. We can give an anaesthetic, provide pain relief or a lifesaving blood transfusion. We can support someone's breathing, support their heart…we can even re-start their heart. All this happens in major hospitals every day. The difference is, we do it in the air," Dr Rob concluded.
In the first 4 months of 2021 the Service's three bases at Newcastle, Tamworth and Lismore have flown over 500 missions and on average, the Westpac Rescue Helicopter flies over 1500 missions a year, including responding to emergency Triple Zero (000) calls, inter hospital transfers and search and rescue. Every day the Service is proud to deliver the very best in aeromedical support for those in need 24-7.
We hope the insight into the lifesaving capabilities of the aircraft and its Medical Team appeals to the broader community with which we serve, as we seek their support once again to help us to raise the vital funds needed to keep the Service flying across Northern NSW, Westpac Rescue Helicopter Service CEO Richard Jones OAM said.
"Each year the community is so generous in support and I hope that thanks to Dr Rob, they can see where this support goes and the potential every donation, large or small, has to change people's lives. This truly is a community run service and every year we see that a little from many goes a long way and we are ever so grateful for the continued support," Jones said.
"We are mindful however that across Northern NSW, having endured COVID, drought, bushfires and most recently the flooding on the Mid North Coast, donation support may be difficult for many. We are all in this together and we hope our Appeal reaches out to everyone, with those who are able, taking the opportunity to make their support count. We are very conscious that not everyone is in a position to donate but we will be very grateful to those that can," Jones concluded.
The community can make donations to the Service's Appeal at rescuehelicopter.com.au/appeal or by FREECALL 1800 155 155.