Achieving MaxSIMum Service With Glencore Support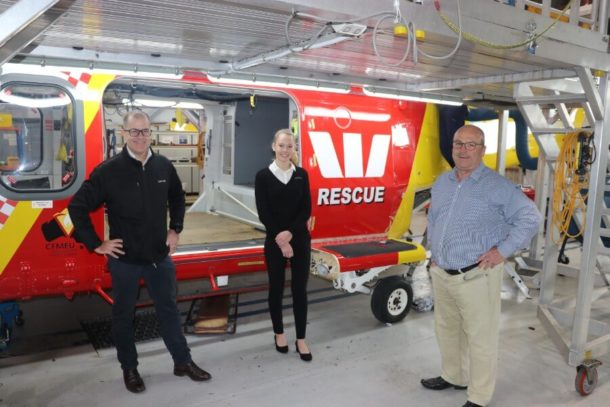 5th, July, 2020
Renewed support from Glencore, one of the world's largest resource companies, will see the Westpac Rescue Helicopter Service pilots receive state of the art training to ensure they remain equipped to deliver the best in aeromedical support across Northern NSW.
A Partner of the Service for more than a decade, this continued six figure investment by Glencore, extends the partnership to the end of 2020 and sees Glencore recognised as an official training Partner of the Service, focusing on supporting the training of pilots to maintain a 'world class' standard of aeromedical service to the community.
"With our service operational 24-7, in all weather conditions, the ongoing maintenance and enhancement of the skills and training of our pilots and aircrews is vital," Westpac Rescue Helicopter Service CEO Richard Jones OAM said.
"We place the highest priority on the importance of training for our crews and pilots to ensure success and sustainability of our world class service and we are fortunate to have a company such as Glencore share that objective with us and partner us in delivering this life saving service for the communities that we share," Jones continued.
The continued partnership sees Glencore provide funding to help the Service's pilots complete 250 hours of simulator (SIM) training in Category 'D' simulators based in Sydney to help maintain competency under Civil Aviation Safety Authority regulations. This training aims to increase skill levels of operational personnel for all scenarios and to reduce risk of mishap to patients, aircraft and crew.
"Glencore has supported the Service for a number of years, most recently contributing to help fund a new GeoSim – Flight Simulator at the Service's Belmont base, which will be installed and launched later this year," Glencore's Community Relations Manager Craig Strudwick said.
"Like our employees in the mining industry, the pilots rely on advanced operational skills and a high level of training in order to do their jobs safely.
"By supporting the Service, we can help to ensure all pilots have access to cutting edge training so they can continue to provide the best possible service to our communities.
"Having a service like the Westpac Rescue Helicopter is really valued in our communities and it's something that Glencore is incredibly proud to continue to support," Mr Strudwick said.
In recognition of their support, Glencore's logo will be displayed on Hunter based aircraft and on the Chief Pilot's uniform during 2020.
Photo:
At the Westpac Rescue Helicopter Base at Broadmeadow are (L to R) Glencore's Community Relations Manager Craig Strudwick; Elise Pfeiffer, Glencore Media and Community Relations Coordinator and Richard Jones OAM, Chief Executive Officer, Westpac Rescue Helicopter Service.
Media Contacts:
Richard Jones OAM, Chief Executive Officer, Westpac Rescue Helicopter Service  Mb 0419 261 877
Elise Pfeiffer, Media and Community Relations Coordinator, Glencore  Mb 0408 095 530

About Glencore
Glencore is one of the world's largest global diversified natural resource companies and a major producer and marketer of more than 60 commodities. The Group's operations comprise around 150 mining and metallurgical sites and oil production assets. With a strong footprint in over 35 countries in both established and emerging regions for natural resources, Glencore's industrial activities are supported by its global marketing network. Glencore's customers are industrial consumers, such as those in the automotive, steel, power generation, battery manufacturing and oil sectors. We also provide financing, logistics and other services to producers and consumers of commodities. Glencore's companies employ around 160,000 people, including contractors. Glencore is proud to be a member of the Voluntary Principles on Security and Human Rights and the International Council on Mining and Metals. We are an active participant in the Extractive Industries Transparency Initiative.
Glencore Australia
Glencore has operated in Australia for over 20 years and holds significant interests in a range of commodity industries across all mainland states and the Northern Territory. We employ about 17,200 people across the coal, copper, zinc, nickel and oil industries. In 2019, Glencore contributed about $15.6 billion to the regional, state and national economies in Australia. The most significant economic contribution came from core business activities: employing people, sourcing from local communities, and paying taxes to host governments.