Careers
If a sense of purpose, fulfillment and community connection resonates with you then look no further. View our current positions.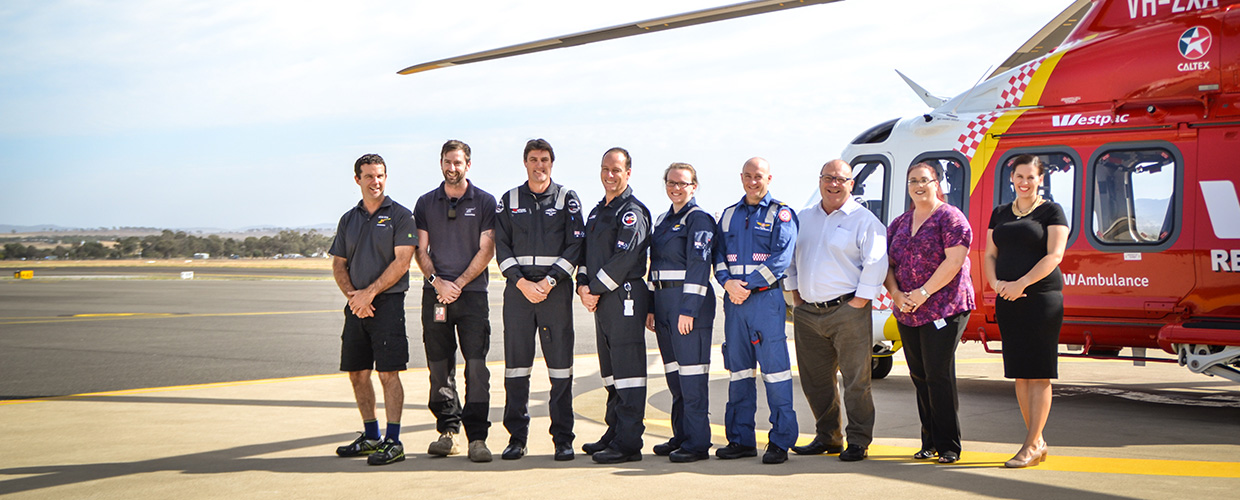 Are you innovative and driven?
We are here for each other as we work together to deliver the highest standard of aeromedical and rescue services to our community.
As the recipient of the 2019 Employer of Choice Award, our people are positive, invested and motivated to go the extra mile. Oh, and we love to have a laugh along the way.
What's more, you'll be embraced by a supportive and encouraging work environment where innovation, aspiration and personal growth is promoted.
We offer exciting opportunities across Northern NSW; including our headquarters in Broadmeadow and our operational bases at Belmont, Tamworth and Lismore. We also have regional staff located on the Central Coast, Hunter Valley and Mid-North Coast.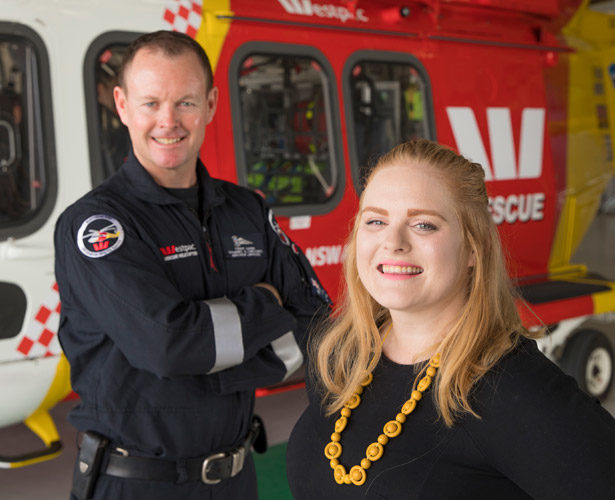 Joining our crew means you care. You share a vision to be Australia's leading aeromedical and rescue services provider and value compassion, integrity, accountability and unity.
Our Values guide our actions, decision making and reflect who we are and what is important to us.

Accountability
Taking responsibility and ownership of our behaviour, priorities and our growth.

Compassion
Demonstrate a high level of genuine care and empathy to all.

Unity
Working together respectfully, valuing each other, to deliver the best outcomes for the customer, community and stakeholders

Integrity
We are honest, fair, transparent and conduct ourself with the highest ethical standards.
Here at the Westpac Rescue Helicopter Service we are committed to diversity and inclusion.
For us inclusion means people being able to bring their true selves to work and creating an environment that supports them to be the best person they can be. Diversity for us is a business decision to ensure we have different viewpoints, perspectives, which lead us to better decision making and outcomes.
It is essential to our company culture that we represent the outside community within our organisation, whether that be age, race, gender or ability. We have a gender diverse workplace and love to celebrate each and every one of our employees. Check out our recent International Womens Day 2020 Video, where our staff explain what this day means to them.
In early 2020 we joined Castle Personnel's Inclusive 100 campaign, where we committed to improve our diversity and include people with all levels of ability in our workforce.
Our community provides such significant support to us and we believe it is important to pay this forward. Therefore we like to give back to the community through a range of programs. We offer industry placement and work experience opportunities for people to advance their capability and experiences. Many of our people volunteer their time to community programs that make a difference including school education programs and women's mentoring programs.
We get to change the lives of patients every day, but we also strive to change the lives of those who work for us.
Click here to find out more about our employee benefits and wellbeing.
Employment Opportunities
Here at the Service, we are always on the lookout for talented, passionate and vibrant people who share our vision. We love people who thrive on giving back, who are solution focused, collaborative and truly believe that together we are better.
If it sounds like our crew is the place for you, take a look at current job vacancies listed.
Click here to find out more about our Recruitment Process.
Receptionist Tamworth - 12 month contract
The Westpac Rescue Helicopter Service is currently seeking an experienced Receptionist to join their Tamworth team on a permanent full-time basis for a 12 month maternity leave contract. Providing reception, marketing, fundraising, facilities and administrative support across the base, the successful candidate will ensure activities are conducted professionally and efficiently whilst engaging with all stakeholders in a positive and helpful way.
The key responsibilities of the role include:
The full range of general reception and administrative duties across the base.
Supporting the Major Events team in relation to events coordination and delivery.
Supporting the Volunteers team in relation to Volunteer activities, administration and Support Group documentation.
Facilities Management support at the Tamworth base.
Maintain a range of accurate and up to date databases and registers including CRM.
Report generation for key stakeholders and the production of correspondence including letters, invitations, certificates, emails and presentations.
Finance related transactional and data entry tasks.
Induction and coordination of service contractors.
Welcome and engagement with visitors to base.
Upholding safety standards in accordance with WRHS procedures including the cessation and reporting of any unsafe acts, activities or hazards.
About you
To be considered for this role you will demonstrate:
Experience in a reception and/or administration role.
A willingness to undertake a Working with Children Check (WWCC) prior to commencing
A current NSW Drivers Licence.
A willingness to undertake First Aid Certificate, unless you already hold this qualification.
Exceptional communication and organisational skills, and the ability to manage competing priorities.
A positive influence on the Base, be adaptable, collaborative and focused on delivering a positive guest experience.
Strong computer literacy and attention to detail
How to apply
To learn more about key responsibilities, company culture and associated benefits of this opportunity, please contact Jane Lynch on 02 4927 2012 or Olivia Evans 02 4927 2025 otherwise oliviae@peoplefusion.com.au for a confidential discussion. Alternatively, click "Apply" to submit your covering letter and CV.  Please note, the start date for handover on this role will be Monday 19th September 2022.
Apply on Seek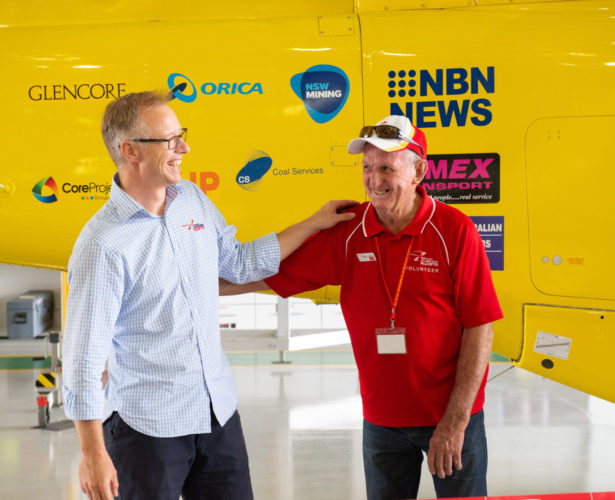 Essential to our community engagement
Volunteer Opportunities
Our volunteers are essential to our fundraising and community engagement.
The Westpac Rescue Helicopter Service has over 1000 "Red Shirt" volunteers who contribute to the Service. From BBQs and raffles to Op Shops and Administration support, our volunteers are essential to our fundraising and community engagement.
You can learn more about the types of volunteering you can do for the Service and apply below.
Apply Here