Aircrew
Who flies on board and what are their roles?
Skilled professionals with many years' experience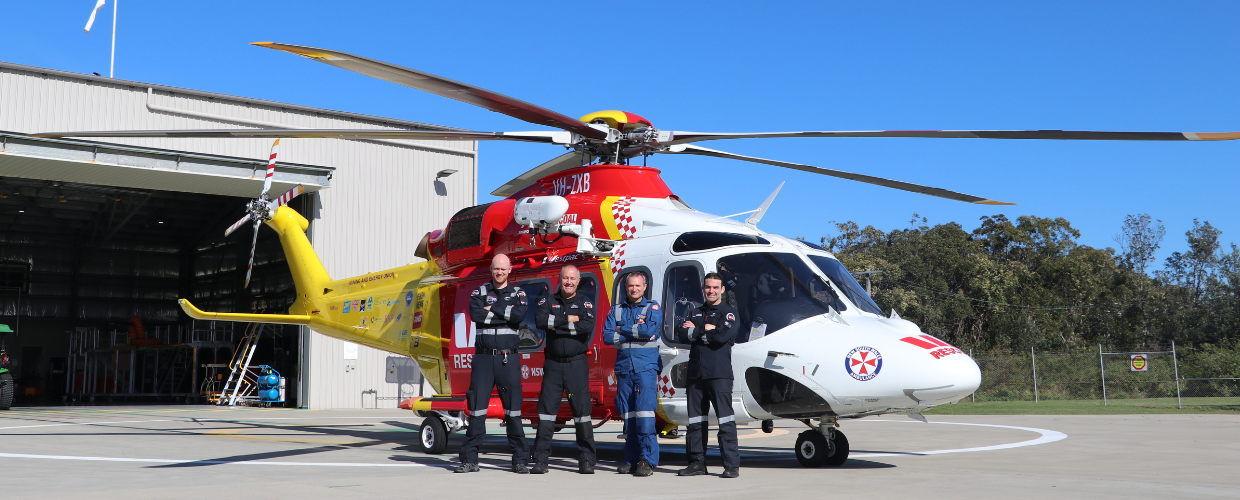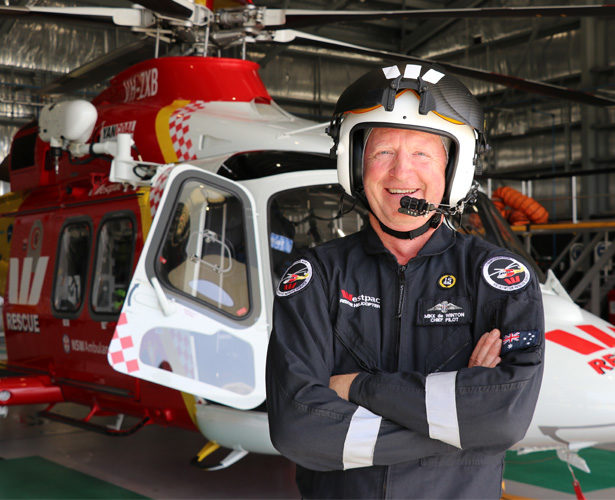 Pilot
Pilots are skilled professionals with many years' experience in aviation and specifically trained to conduct aeromedical operations. The Pilot has overall control of the aircraft and leads the entire crew during missions. Responsibilities include:
Safely operate the aircraft in all-weather environments including IFR, night, utilising Night Vision Goggles (NVG) and in cloud.
Flight and mission planning for all missions.
Radio communications with air traffic control and other airspace users.
Assist the medical team with patient transfer.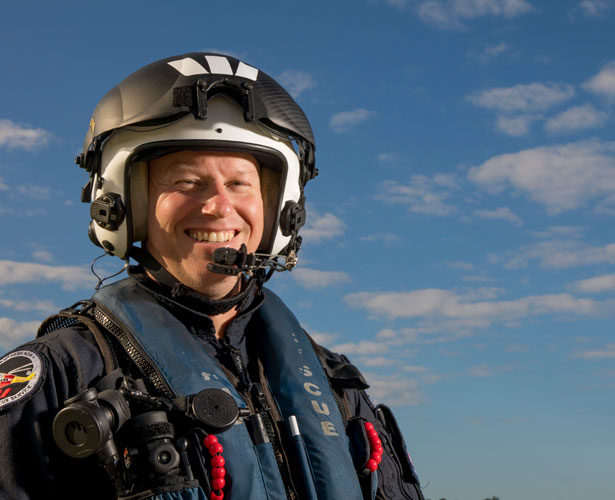 extensive aviation experience
Aircrew Officer
The Aircrew Officer's role is as diverse as it's unique. With extensive aviation experience, their role changes as each mission develops. Responsibilities include:
Assist the Pilot with flight and mission planning and monitoring the aircrafts flight path and performance.
Assist the Pilot with inflight emergencies, as well as manoeuvre and land the aircraft in remote and confined environments.
Operate the winch to insert and extract medical crews and patients.
Conduct hover entry/exit operations.
Operate aircraft systems and deploy equipment and stores during SAR operations.
Assist the medical team with patient treatment, care, loading, transfer and unloading.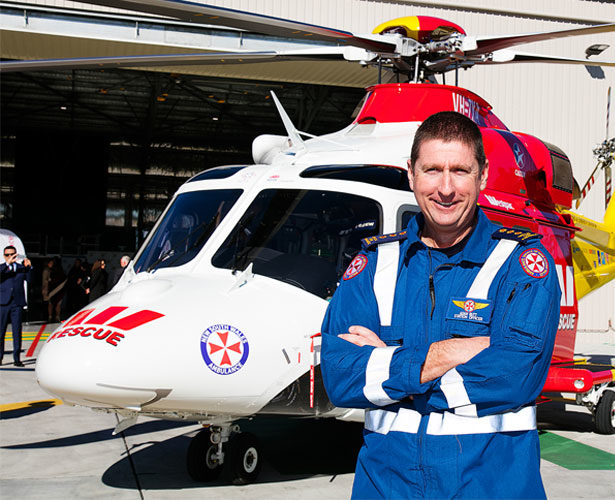 NSW Ambulance Critical Care Paramedic
The NSW Ambulance Critical Care Paramedics have at least 10 years' paramedic experience and are experts in pre-hospital patient care as well as rescue crew responsibilities requiring high levels of physical fitness, both on land and in water. Responsibilities include:
Working with the NSW Health Doctor to provide pre-hospital, lifesaving medical treatment.
Assist in mission planning and communicating with a variety of other emergency services, ensuring the mission is completed as quickly and as safely as possible in conjunction with land based resources on scene or at the hospital destination.
Plan and effect the recovery of patients via winch.
Recover patients who need assistance out of the water.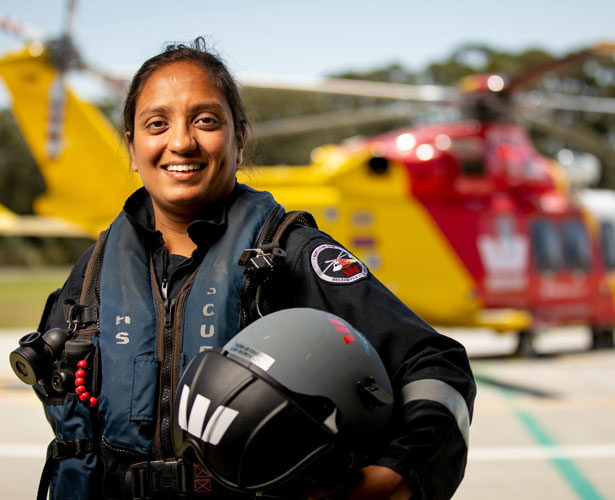 NSW Health Doctor
NSW Health Doctors are extensively trained in aeromedical operations and work in conjunction with the NSW Ambulance Critical Care Paramedic to provide specialist level medical treatment to patients. This level of care is equivalent to what would be provided in Major Trauma Hospitals but done on scene or in flight. Responsibilities include:
Ultimate responsibility for the clinical care of the patient(s).
Coordinates with team members to deliver tertiary level medical care to patients outside major hospitals. This includes first response, all the way to inter-hospital retrieval of patients needing specialist medical and surgical care that is not available in the referring hospital.
In some cases, where urgent surgery may be the life or limb saving step, the patient needs to be collected and transported rapidly. In contrast, there are cases where a patient may be trapped and initial treatment may need to be performed. The Doctors role is to coordinate, prioritise and deliver care, while other emergency care professionals secure and stabilise the scene and extract the patient.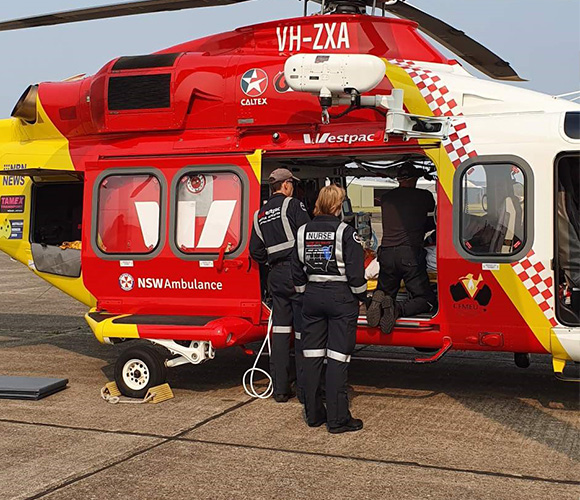 Specialist NSW Health Retrieval Nurse
Some missions require a specialist NSW Health Retrieval Nurse. These may be specially trained in aspects of paediatric intensive care or other medical fields subject to the patient's needs. All of the Retrieval Nurses have years of critical care experience and are experts in their field. The Retrieval Nurse Specialists provide initial assessment and advice to referring hospitals and coordinate transfers from the many small hospitals within our region. Missions may require the helicopter to retrieve patients requiring urgent specialist medical care from remote hospitals and bring them to specialist hospitals. In this case a specialist Retrieval Nurse accompanies the Doctor on-board. Responsibilities include:
Working with the Doctor to provide high level intensive care to seriously ill and often unstable patients.
Provide clinical co-ordination between intensive care units in hospitals across the state.
Assist the Pilot and Aircrew Officer with patient transfer.