Our engineering team is an integral part of our daily life saving work.
Each time an aircraft is needed, there is an expert team of ground personnel who have ensured the aircraft can safely perform to the highest standard. Careful planning and a strict maintenance schedule are key to safeguarding that each of the four AW139 helicopters are ready for action 24-7.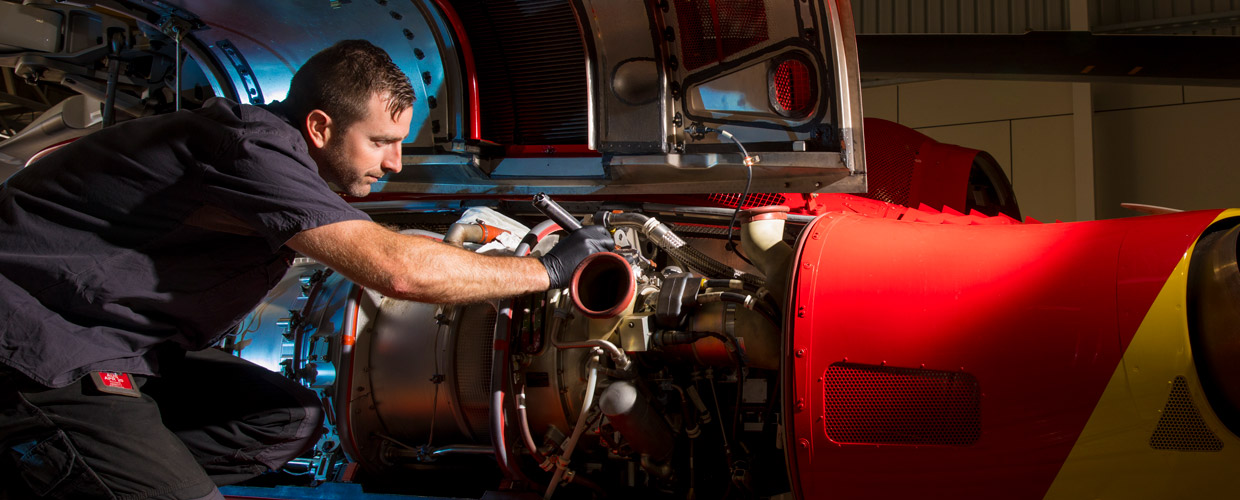 The Westpac Rescue Helicopter Service's engineering department comprises of 29 staff across four bases. Operational base engineers are on base 7 days a week, working during the day and on call overnight. These engineers conduct a daily inspection of the aircraft which includes an airframe inspection, checking oil levels and rotating components such as rotor blades.
In addition to our base engineers, the Service operates a Deep Level Maintenance facility at our Broadmeadow base to complete 300, 600, 1,200 and 4 yearly inspection services on the aircraft. These larger services include removing panels from the aircraft and inspecting the airframe and individual components.
The maintenance of aircraft is paramount and "deep level" or 'heavy' maintenance is a critical element of all operations. Aircraft maintenance is required at different intervals. This can be driven by Flight Hours (FH) for items in constant operation (transmissions, engines etc.), Flight Cycles (FC) for items operated once or twice in flight (landing gear/rescue hoist), Calendar Time (CT) for items exposed whether operated or not (fire extinguishers, floats, corrosion to hull).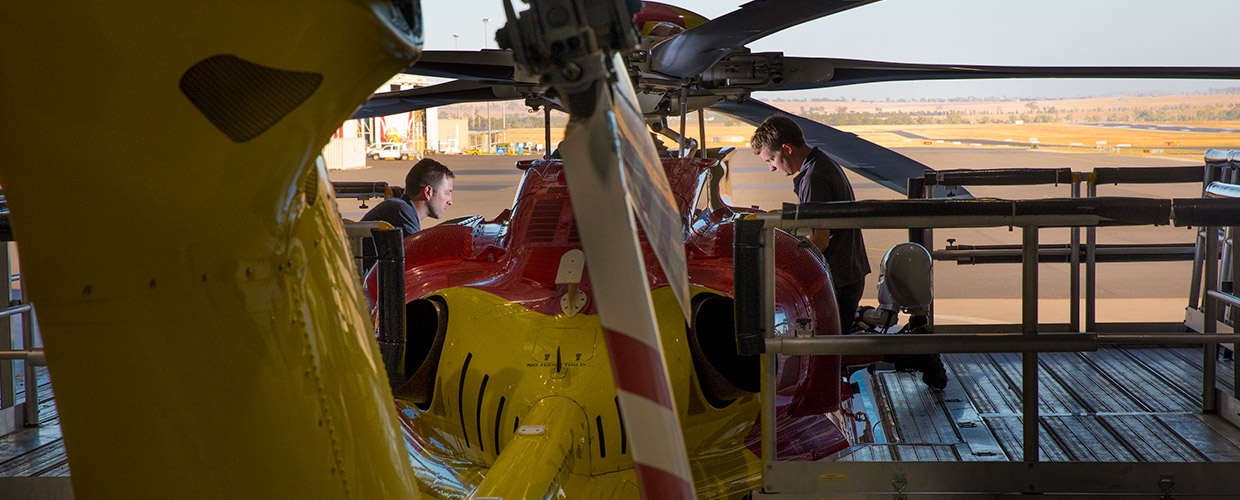 Specialised tooling & equipment
Heavy Maintenance
Heavy maintenance consists of in-depth maintenance tasks on aircraft that cannot be achieved at the operational bases due to the time taken (up to 8 weeks for a 4 Year Inspection) and the limited facilities and tooling available.
The Heavy Maintenance Facility at Broadmeadow has specialised tooling, equipment and staff to undertake Heavy Maintenance activities.
The activities may include:
300FH, 600FH/1Y, 1200FH & 4Y inspections that check for deterioration of the airframe, engines and systems, e.g. corrosion, fatigue.
Rectification of defects – implementation of Service Bulletins and Airworthiness Directives – this can also be done at all levels of maintenance.
Aircraft modifications, surface area preparation and painting.