Air Crew Officer Celebrates 20 years with the Service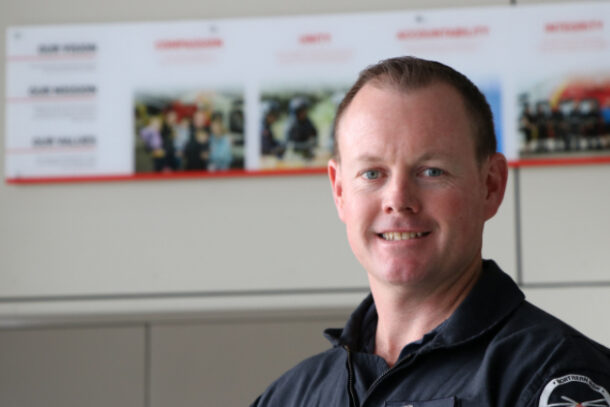 24th, January, 2022
Perseverance and determination is what got Trent Owen into the Westpac Rescue Helicopter Service in 2002, and now the Training & Checking Air Crew Officer can celebrate 20 years of service.
"Trent has brought a level of professionalism and commitment to the Service from his first day in 2002, and 20 years later those qualities have never wavered. He is a wonderful asset to the Service and the New England North West, and we congratulate him on this career milestone," said Westpac Rescue Helicopter Service Operations Manager Robert Jenkins.
Working from the Service's Tamworth base, Trent was inspired to work with the Rescue Helicopter because it combined his desire to give back to the community with his love of aviation.
"Watching my father serve in Fire + Rescue NSW instilled the value of helping your community in a time of need, and honestly I was torn between applying for a position with Fire + Rescue NSW, or following my passion for aviation," Trent said
"The aviation bug bit hard and the challenges to obtain a position with the Service due to the popularity of the volunteer crewman roles inspired me to chase the dream and do whatever was required to get my start."
During his tenure, Trent took a position with the Westpac Life Saver operation in Sydney to diversify his experience, but he always came back to Tamworth to cover shifts where necessary.
"Loyalty and my family kept me coming back. The Service gave me a chance as a 20 year old Volunteer Rescue Crewman and I was forever grateful and still wanted to contribute to the Service wherever possible," he said.
Looking back on his achievements, which include being named Australian Helicopter Aircrew Member of the Year' by the Australian Helicopter Industry Association in 2018, Trent says he never could have dreamed of the career he has had as a 20 year old.
His current role as Training & Checking Air Crew Officer now sees him apply the skills he has learnt over two decades and share his passion for aviation safety with others.
"Being able to pass on my experience, help train staff on our new generation aircraft and apply skills learnt over the last 20 years to help Northern NSW in their time of need is an absolute honour, and I am so proud that we have a world class service to provide for regional NSW."