The Service's Base to Base Challenge is back!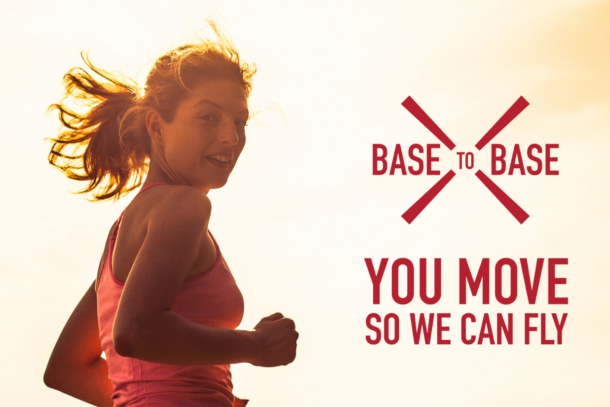 1st, September, 2023
The annual Base to Base Challenge raising vital funds for the Westpac Rescue Helicopter Service (WRHS) is back this October. This month-long fitness initiative invites people from all walks of life to unite, stay active, and support their local community.
The Base to Base Challenge is a unique event bringing communities together with one simple message – 'get moving and make an impact.' Participants can walk, ride, run, or roll their way through 50km, 100km, 150km or set their own challenge. They can go solo or team up with friends, family, colleagues or their sports club to raise essential funds for the Westpac Rescue Helicopter Service.
This challenge is a call to action for everyone, regardless of their fitness level or background, to lead a more active life while supporting an organisation that plays a vital role in saving lives.
The Westpac Rescue Helicopter Service is honoured to have ten passionate ambassadors joining the challenge this year, each with their own inspiring rescue story. Ambassadors like David Gatwood, Emma Went and Brandon Robinson-Smith are the heart of the Base to Base Challenge, their stories highlight the lifesaving role of the Westpac Rescue Helicopter Service.
"It's a great challenge and an avenue for me to give back to an organisation I owe so much to." Ambassador David Gatwood said.
Ambassador Emma Went is also gearing up for the Base to Base Challenge and knows first-hand just how important supporting this essential service is. "The Westpac Rescue Helicopter is a life changing service to support in case there is a day that you or your loved ones might need it. I'm thankful for this amazing service every day since my accident," Emma Went said.
Ambassador Brandon Robinson-Smith loves the Base to Base Challenge because individuals from across Northern NSW all get involved to support the Westpac Rescue Helicopter Service. "It is a crucial service within our emergency response and healthcare network." Brandon Robinson-Smith said.
With one month to go before the Base to Base Challenge starts, teams from Moree, Lismore and Newcastle have already begun fundraising, so the race is on.
Community support for the event will be a boost to the Westpac Rescue Helicopter's services, which operates in partnership with NSW Ambulance and NSW Health to deliver the highest standard of aeromedical and rescue services to those in need across a state-wide network.
A NSW Ambulance critical care paramedic and NSW Health doctor are on board each AW 139 aircraft to provide the highest quality critical care where it is needed most.
Registration is FREE, and as an added incentive, the first 750 participants who raise $50 will receive an exclusive, limited-edition Base to Base buff.
Participants can register HERE and follow the Base to Base Challenge Facebook and Instagram to view other participant photos, stories and experiences.