Bids For Billboards A Fundraising First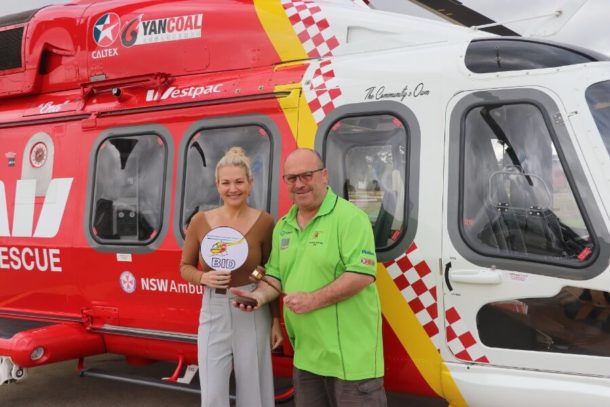 10th, November, 2020
Over the next month, businesses will go head to head as they bid for prime billboard locations in a unique fundraising auction, the first of its type, developed by oOh!media in support of the Westpac Rescue Helicopter Service.
A total of 50 sites have been selected by oOh!media, Australia's leader in 'out of home' advertising, with the sites going to the highest bidder and funds raised going to the Rescue Helicopter.
A successful promotional partnership between the two organisations earlier this year was the catalyst for oOh!media continuing its support of the Service.
'In May of this year, in the height of COVID, we saw the opportunity to support the Service and provide the community with the reassurance that despite the difficult times, this valuable rescue service would remain available to them if needed,' oOh!media's Newcastle Business Manager Cassandra Agnew said.
'At the time, we provided billboards for the Service that communicated this message in communities throughout Northern NSW. This time around, we are offering other businesses the opportunity to promote their own business but with the funds raised from the highest bidder for each of the billboard sites going to the Westpac Rescue Helicopter,' Ms Agnew said.
With a total commercial value of sites in excess of $300,000, the 'Bids For Billboards' auction stands to provide a significant windfall for the Service at a time when it is most needed.
'As we head into the summer months, this is traditionally the busiest time for the Service,' Westpac Rescue Helicopter Service CEO Richard Jones OAM said. 'As COVID restrictions are eased, more people with be active across the State. With the majority of our fundraising activities cancelled since March, this unique initiative for support couldn't have come at a better time.'
'Bids For Billboards' will take place on a purpose built auction site at https://app.galabid.com/bidsforbillboards where businesses will have the opportunity to bid on 50 premium billboard locations provided by oOh!media in major centres across NSW. The site will go live and opening bids will be received from November 10, with bids accepted up to Friday December 4.
'This is a truly unique initiative and I must applaud oOh!media for their creativity in developing the concept and thank them for allowing the Service to partner with them once again in an exciting fundraising opportunity,' Jones concluded.
Media Contacts:
Richard Jones OAM, Chief Executive Officer, Westpac Rescue Helicopter Service Mb 0419 261 877
Julian Elliott, Lighthouse Communications (for oOh!media) Mb 0425 840 071
About oOh!media
oOh!media has an unrivalled network of more than 35,000 locations reaching 77% of all Australians, and sophisticated data analysis technology to ensure powerfully unmissable connections with millions of people every day.
The company works with advertisers, media agencies, partners and communities to engage people with Out of Home experiences that educate, engage, inform and inspire.