CEO celebrates 25 years with community service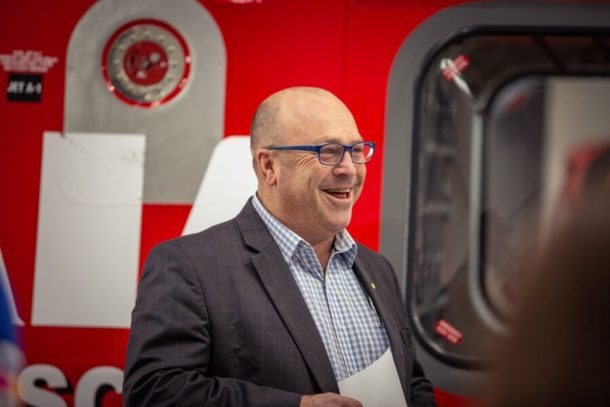 6th, November, 2020
CEO celebrates 25 years with community service
This Friday 6 November, marks 25 years of Service for Chief Executive Officer of the Community's Own Westpac Rescue Helicopter Service, Richard Jones OAM.
Richard's outstanding commitment to the community, empathy for those in need, leadership skills and vision are credited by the Board, Regional Advisory Committees and staff as being integral to the Rescue Helicopter's evolution into becoming one of Australia's leading aeromedical services.
Chairman of the Service, John Davis commended Richard on his dedication to leading with his heart and prioritising the community's needs.
"Our operations have evolved continually during Richard's 25 years of leadership and he deserves every congratulations on his achievements throughout that time. His passion and dedication have been tremendous and he has always kept our Community's needs at the forefront of every decision. The Service is extremely fortunate to have had such an incredibly genuine leader for the past 25 years," Mr Davis said.
Community connections is where Richard's journey with the Westpac Rescue Helicopter Service began. In the early 80's Jones played first grade rugby for the Dragons before returning to Newcastle to play for Souths. An injury in the 90's saw his playing days cease and commentary days commence. Richard began working alongside NBN's Mike Rabbit and former Knights coach Allan McMahon, who at the time was running the Service.
Richard recalls Allan regularly talking about his role with the Westpac Rescue Helicopter and then one day Allan shared that he was leaving his job at the Service and Richard thought 'I might have a go at that' and the rest was history.
It was in November 1995 that Richard started his role as General Manager of the Westpac Rescue Helicopter and for more than half of the Service's existence, Jones has been at the helm with community continuing as the cornerstone of the Service's operation.
Throughout his career, Richard has overseen many significant changes and challenges which included several major upgrades to helicopter technology. Leading a successful tender into NSW Government to win a ten year contract for the Rescue Helicopter to deliver world-class aeromedical services to the communities of Northern NSW. The introduction of four new AW139 helicopters and development of two new bases at Belmont and Lismore and extensions at Tamworth.
More recently Covid has posed many challenges for the Service and Richard is proud to have witnessed a high degree of patience and resilience over the past months.
"All departments have been working exceptionally well together to get through this tough period and I am proud to say that together our aeromedical response capability continued to be available 24-7 for our community," he said.
Personally Richard says one of the things he has really missed during Covid is not being able to visit and thank the communities who support their Rescue Helicopter.
"Saying thank you in person is what I love to do, it doesn't matter if you've donated a $1 or $1000 you deserve a thank you. We're always so grateful for every bit of support we receive and saying thank you is something that I am proud of and I believe we do very well," he said.
With the big 25 milestone approaching, many people have been asking Richard how he has remained so dedicated to the Service, in which he explains he is very grateful to have the continual support of his wife and kids and to put it simply 'it's never felt like a job'.
"I love what I do and I'm passionate about the vital role our Service provides for the communities of Northern NSW. It's an absolute honour, every day is so dynamic, there are continuous challenges, however I always see positive growth and the growth I see across our teams inspires me every day.
"Over the years I've worked alongside many incredible people and the Rescue Helicopter has been extremely fortunate to have the right people over time to help our Service grow to what it is today. From Cliff Marsh making a remarkable contribution since the inception of the Service as a volunteer weekend beach patrol, to Chairman John Davis taking our Service to a new level of professionalism," he said.
Today as the Service's CEO, Richard says he is driven by the community support, past patients, small towns out west and volunteers, 'it really keeps me keen to keep going'.
"I love seeing the community support and the positive outcomes – together we are saving people's lives and the end product is that every time the Rescue Helicopter leaves the ground… so many people had a part to play. This includes our entire helicopter family both past and present, our engineers, aircrew, marketing, housie, finance, admin, board of directors, regional advisory committees, volunteers and donors. Also the NSW Ambulance Paramedics, NSW Heath Doctors, Nurses and the entire emergency service network across the regions who do such wonderful work. All of which come together to ensure we can provide the best in aeromedical support 24-7," he said.
The Westpac Rescue Helicopter would like to thank Richard for his outstanding 25 years of service.