Essential Energy Receives Boost from Staff with The Energy to Help Save Lives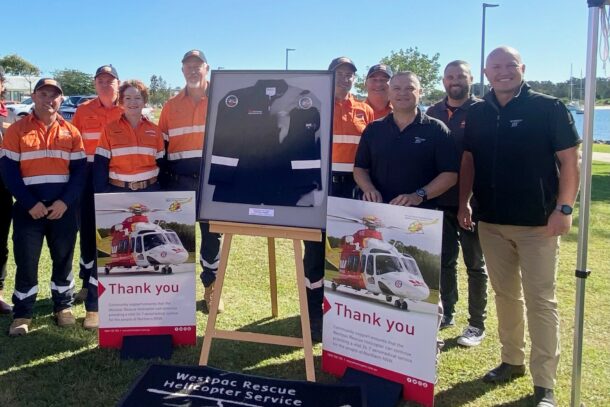 4th, July, 2023
A workplace giving program conducted by energy provider Essential Energy has reached a $2M milestone, with staff actively supporting the Westpac Rescue Helicopter Service in saving lives across Northern NSW.
Essential Energy staff from more than 20 depots across the Mid North Coast, Northern Rivers and New England North West, have been donating to support the Service for more than 20 years. Staff donations are matched by Essential Energy, effectively doubling their contribution and making Essential Energy one of the top three all-time highest workplace giving supporters for the Service.
Essential Energy's Chief Executive Officer John Cleland said he is proud of the company's Essential Giving Program, where employees support a range of charities active in the local community, including the Westpac Rescue Helicopter Service.
The Westpac Rescue Helicopter Service plays a vital role in the community and our employees take great pride in being able to contribute to this lifesaving regional service.

Through the generous donations of our employees, we're delighted that together, we've been able to reach this incredible two million dollar giving milestone.

– Mr Cleland
Westpac Rescue Helicopter Service Acting CEO James Lawrence said the contribution made by Essential Energy over more than two decades has been significant and a valuable one to ensure the Service remains on standby for communities in the Region.
We are very grateful for the support from Essential Energy employees and the organisation in matching staff contributions. These funds have been used to provide the highest possible standard of training to our Pilots and Aircrew Officers and to ensure our aircraft remain ready to respond 24/7 with the latest life-saving medical equipment and technology

The support has enabled us to carry out life-saving rescue missions and emergency inter-hospital transfers from small rural and regional hospitals throughout the New England North West, Mid North Coast and Northern Rivers over the past 20 years. We will continue to welcome the support of Essential Energy employees as the cost of operating our Service increases with maintenance, equipment and training costs all rising and the need for our Service to respond to life-threatening emergencies continues to grow

– James Lawrence
In recognition of the support, Westpac Rescue Helicopters operating from the Tamworth and Lismore Bases proudly carry the Essential Energy logo on the tail of the aircraft.