Every Piece Counts when it comes to Saving Lives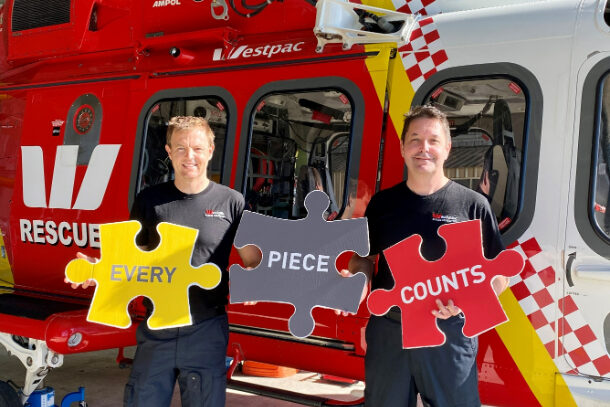 1st, September, 2022
Like a jigsaw puzzle, there are many different pieces that fit together to ensure our Westpac Rescue Helicopters are able to respond 24/7, providing emergency aeromedical support to on average four patients across Northern NSW… every single day.
With four rescue helicopters operating from our bases at Newcastle, Tamworth and Lismore, each mission we fly is only possible because of the generosity of our supporters who provide a vital piece of the Westpac Rescue Helicopter puzzle. There are so many ways to support the Service, so many pieces that help us complete the puzzle… and every piece counts!
Becoming a Monthly Supporter is one of the easiest ways to make a real impact. As a monthly supporter your generous gift every month provides an essential piece of the puzzle and really adds up to help us save local lives. By signing up and starting a monthly deduction between 17-31 August 2022 you not only help us save local lives but also have the chance to win one of 3 specially designed Rescue Helicopter jigsaw puzzles.
Are you our missing piece?  To start your monthly support sign up online today here.
TERMS AND CONDITIONS: This promotion is operated by Northern NSW Helicopter Rescue Service Ltd. Trading as Westpac Rescue Helicopter Service (WRHS) ABN 40 002 862 026 CFN 11992. There are 3 jigsaw puzzle prizes available to be won. To be eligible for the prize draw you must commence a new Monthly Supporter deduction between 1-11 September 2022. Prizes will be drawn at 10am 15/09/2022. The winners' names will be published on our WRHS website and social media pages. The prize draw is being run solely by WRHS. The jigsaw puzzle prizes are not redeemable for cash. WRHS Volunteers, Staff or their immediate families are not eligible to enter the draw. Click here to see our full Privacy Policy.