Milestone For Rescue Service Stalwart
Nicko celebrates 40 years with the Rescue Helicopter.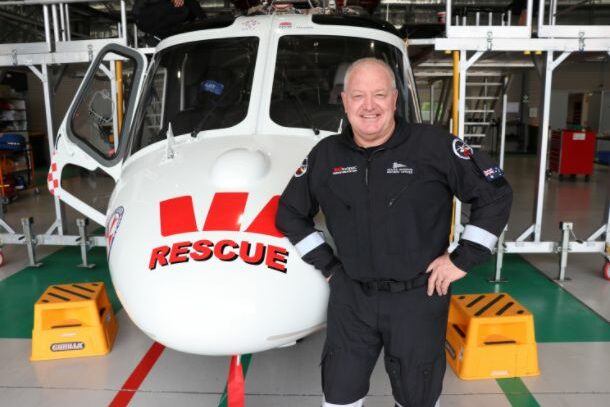 24th, September, 2021
Aside from Service CEO Richard Jones OAM, Graham Nickisson aka 'Nicko' is probably one of the most recognisable faces and 'personalities' within the Westpac Rescue Helicopter Service.
And all for good reason. Nicko will reach a milestone of 40 years' service with the Rescue Helicopter this Saturday, September 25 and with that comes a plethora of memorable stories, both heart wrenching and hilarious.
Nicko's lengthy career included 38 years as an Aircrew Officer and most recently following his retirement from the aircraft, he has been a high profile member of the Service's marketing team.
Nicko joined the Service aged 17 in 1981 as a trainee crewman and since that time has clocked up over 7,100 flying hours, including 2,639 winching operations and served as Crew Chief for 26 years until 2010.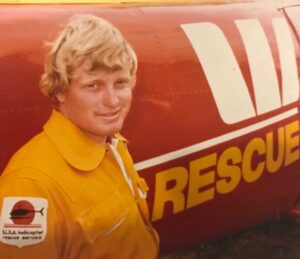 Amongst the thousands of missions conducted, Nicko flew a number of critical taskings involving some of the Region's most memorable events. Nicko signed off from his time in the air with his last mission on October 16, 2018, after which he transitioned into a community liaison role, before taking up his current position as Media and Emergency Services Liaison in 2021.
For Nicko, the forty years of service have harboured challenges, inspirational moments and memories of some beautiful people and amazing courage in the face of adversity.
"We often say we see people at the worst times of their lives, and it's at these times you really see the bravery, courage and compassion of our community,' Nicko said.
"The patients that I have been fortunate to assist inspire me every day and I feel privileged to have worked in this role for so long with such a professional team. My colleagues are like family and I have the utmost respect for them, from the pilots, to the new generation of aircrew officers and the members of the Critical Care Medical Teams that are the real heroes and heroines in this business, they are literally saving and changing people's lives everyday they come to work,' he said.
'But then you have our team on the ground. Our engineers and maintenance teams that keep the aircraft flying and our executive team, senior management, admin and marketing staff who I'm proud to be a member of.'
'And then you have the unsung heroes who are vital in our community fundraising initiatives and they are our volunteers, our dedicated 'red shirts' active right across our service area.'
'For me, my last couple of years on the ground working within the Service's marketing team have been as rewarding and fulfilling as my time in the air. Flight operations is very much the pointy end of the business but after stepping away from that role, I've totally enjoyed the rewards that come from being close to the wider community, our corporate partners and our dedicated volunteers that I'm now privileged to work with in my marketing role,' he said.
'It's understandable the appreciation and support we get from the patients and families of those we help but it's so rewarding to have that support from the wider community who for them it's simply a matter of just knowing we are there if they need us. The love we get from the community makes it a true privilege and an honour to be a part of this service and it means the world to me knowing that we are helping people, giving them a chance, and changing their lives for the better every day,' Nicko said.
For CEO Richard Jones, Nicko is a huge asset for the Service.
'Nicko's loved by everyone in the Service and arguably, in the community as well,' Jones said.
'His career is exemplary. We believe he is the longest serving aircrew officer on any civilian aeromedical helicopter in Australia but he is much more than that. He has embraced his role with dedication, commitment, compassion and an empathy that touches all who have the privilege of working with him.'
With the support of work colleagues and the community, Nicko is quick to admit that his 'greatest support network' comes from his family – wife Leesa and daughters Jackie and Georgia.
'I couldn't have undertaken this journey without them. They have been my rock and are just as much a part of the service as I am,' he said.
'It's hard not to take your work home with you. After decades of 12 hour shifts and seeing trauma first hand, it's impact on patients and families, it's hard to shake off the day when you walk through the front door and your family has to live it with you. I'm so grateful to have Leesa and the girls supporting me every day. They are crazy but it's their special kind of crazy that helps keep me sane, I love them to bits,' he said.
'My other great support at home are my two boxers Benson and Kiarlah. Pets are a great comfort and leveller and we have a great bond. I really value their companionship,' Nicko concluded.