Orica extends Rescue Helicopter partnership to Tamworth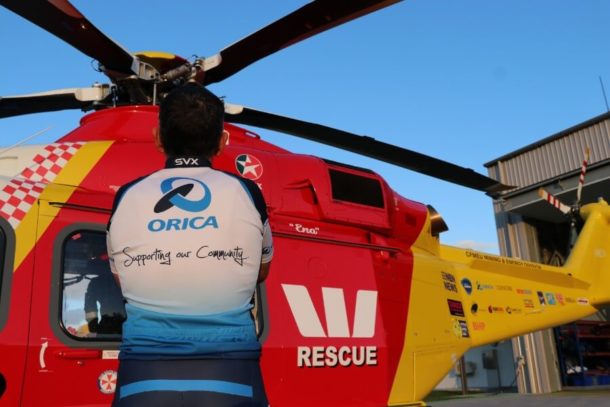 24th, April, 2020
The Westpac Rescue Helicopter Service has announced that long time corporate partner Orica has extended its support to the New England North West Region, providing much needed funds to the Tamworth based rescue helicopter for at least the next three years.
The boost to the Tamworth based aircraft from Orica's agriculture business, which provides nitrogen fertilisers direct to farms throughout the region through a dedicated local supply chain.
"Orica has been a tremendous partner on our Hunter Region aircraft since 2015 and we are incredibly grateful for this extended support into the New England and North West region" said Richard Jones OAM, Chief Executive Officer.
"Orica spoke with us about their desire to do more to support the Agricultural sector specifically, but also the broader communities serviced from our Tamworth base"
"This has been building in Tamworth for a number of years through the 'Ride for the Chopper' mountain bike event and through Orica staff in the region who make 'Dare to Share' payroll deductions monthly, but this is a big step forward and Orica now contributes well over $100,000 per year towards our life saving work" he said.
Orica General Manager Agriculture, Paul Scutt, said "we are extremely fortunate and proud to expand our existing relationship with the Westpac Rescue Helicopter Service into the New England North West, specifically supporting the Agricultural Industry.  The Westpac Rescue Helicopter Service has helped so many people in these communities, and we're honoured to support them while they continue to be there when people need it the most.
The Westpac Rescue Helicopter fly's more than 1,500 missions each year across Northern NSW, operating 24-7 from its three bases in Tamworth, Belmont and Lismore. It delivers aeromedical care, search and rescue and inter-hospital transfers to care for communities from north of the Hawkesbury River, up to the Queensland border. Today, the Service is approaching 1,500 missions per year, with a NSW Health Doctor and NSW Ambulance Paramedic on board every flight.
The Orica logo will now fly proudly on the tail of both the Belmont and Tamworth based aircraft. Orica has also supported the RACQ CQ Rescue Helicopter Service in Queensland since 2010.
Media Contacts
Westpac Rescue Helicopter Service
James Lawrence 0402 387 042
james.lawrence@rescuehelicopter.com.au
Orica
Simone McNamara 02 4939 5194
simone.mcnamara@orica.com