Scone Race Club Pays Winning Dividend In Support Of Rescue Helicopter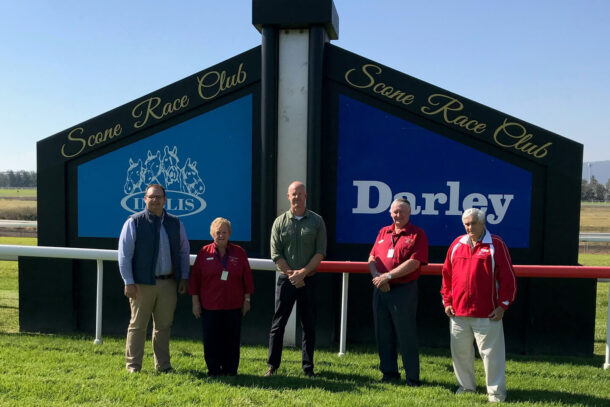 27th, April, 2021
The Scone Race Club has entered a 12 month partnership with the Westpac Rescue Helicopter Service valued at $20,000 in recognition of the Service's lifesaving support to not only the horseracing sector but the wider community.
The support includes a significant cash donation plus exclusive charity partnership rights with the Club for the period which will see Service volunteers given opportunities to fundraise at signature race days such as the upcoming Scone Cup Day on May 14.
The Scone Race Club will also offer the Service 'race day experiences' and entry tickets for use as fundraising prizes across Northern NSW to further complement the sponsorship.
Scone Race Club will also host the inaugural Upper Hunter Race Day on September 24th in support of the Service.
Scone Race Club CEO Heath Courtney said the partnership was important to the industry and even more important to the wider community.
'The Westpac Rescue Helicopter is available to benefit every member of the community. The Scone Race Club, like many businesses I'm sure, are inundated with requests for support and we feel that aligning with an organisation such as the Westpac Rescue Helicopter Service indicates the Clubs intentions of showing support to the broader community,' Mr Courtney said.
'The thoroughbred industry is as unpredictable an industry for injuries as it comes. Working with such large and athletic animals, all with their own personalities and quirks, makes for a hazardous work and leisure environment. With the Upper Hunter being somewhat remote from expert medical care combined with these obvious dangers, the Westpac Rescue Helicopter is a critical piece of equipment in ensuring participants, employees and social owners of horses the best possible chance of swift access to the specialist medical care needed in the inevitable event of injury,' he continued.
'We are in full swing with preparations for the Darley Scone Cup on Friday May 14th. Ticket sales have been their strongest in recent memory with only General Admission ticketing remaining and we are extremely proud to be able to offer this event as a fundraising opportunity for the Service in further recognition of our support,' Mr Courtney concluded.
For the Westpac Rescue Helicopter Service, this is the first relationship of its type in the Upper Hunter and was welcoming by the Service's representatives in the Region.
'We're really excited with the opportunity to increase our existing relationship with Scone Race Club and the Upper Hunter Thoroughbred Industry as a whole, particularly given how important access to the Rescue Helicopter is for those within the industry and the broader community within the Upper Hunter,' Westpac Rescue Helicopter Service Community Liaison Officer Danny Eather said.
'In the meantime, we are looking forward to our presence at both the Scone Cup Day and the inaugural Upper Hunter Race Day in September and encourage the Upper Hunter community and others to put the events in their calendar and support both the Race Club and the communities own Rescue Helicopter Service,' Mr Eather said.
For Further Information:
Danny Eather, Westpac Rescue Helicopter Service Community Liaison Officer 0439 072077