Service Prepares For Busier Times Ahead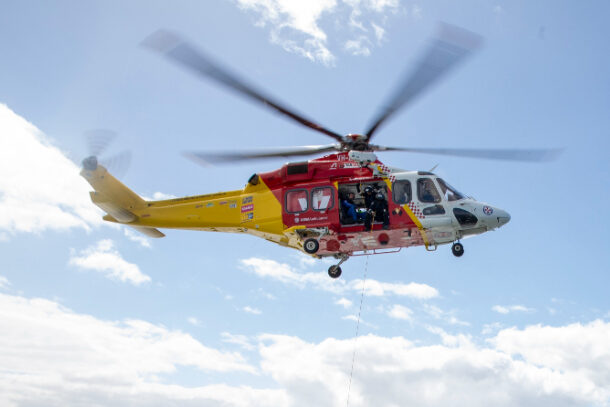 15th, November, 2022
Lesley McFarlane is proof the Westpac Rescue Helicopter can become intertwined with your life in more ways than you can imagine. The dedicated volunteer has thrown her support behind the Service she loves as the face of the Service's Summer Appeal which has just launched.
"My sister and daughter-in-law have both been transported by the Rescue Helicopter over the last 35 years, and I've been a volunteer since 1998. Sharing with people the vital role the Service plays in our community is very important to me because you never know who the next person will be that they transport," said Mrs McFarlane.
It's a message Westpac Rescue Helicopter Service CEO Richard Jones OAM knows all too well, with summer often the busiest time of year for the Service.
"We know from past experience that across summer, our crews encounter increased calls for help from those in need from all of our three Bases servicing the Northern Rivers, New England North West, North Coast and the Newcastle, Central Coast and Hunter Region," Jones said.
"The increased freedoms offered this summer compared to the last two years, will see people right across Northern NSW out enjoying all that the warmer months have to offer in both regional and coastal areas. With this increased activity, we know that despite everyone's best efforts to remain safe, we will be called upon for people in need of urgent medical assistance."
"Annually we have the challenge of fundraising over $14M to help keep our operations on standby 24/7. "
"I'm mindful however that the communities we support have endured continued hardship beyond COVID, most recently, extensive flooding, that has impacted families and businesses alike in centres right across our response area."
"With this in mind, we acknowledge that any donation made, no matter how small, will be gratefully appreciated and importantly, go towards the donors local Base, contributing to our ability to remain on standby 24/7 right across the summer months to help save local lives," Jones concluded.
For Lesley, the message is simple. "Please, dig deep and give to the Rescue Helicopter Service."
The Westpac Rescue Helicopter Service Summer Appeal launches today, and donations can be made at rescuehelicopter.com.au/appeal or by calling 1800 155 155.