Sigma Support Stays Strong During Trying Times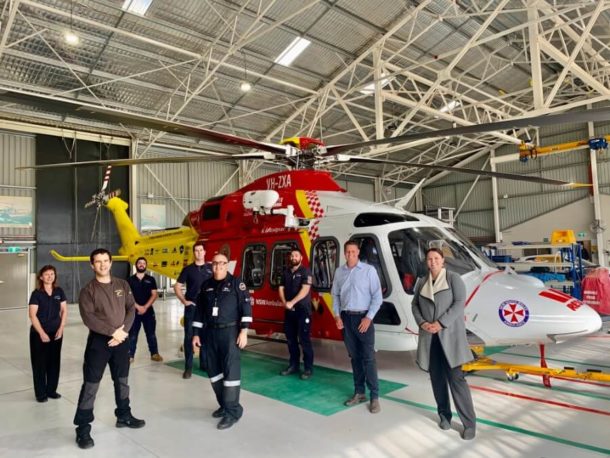 10th, June, 2020
Tamworth specialist engineering business, Sigma Aerospace, has continued a long partnership with the Westpac Rescue Helicopter Service despite the trying times faced by small business around Australia.
Sigma Aerospace, led by Matthew and Renee Wheatley, has been a feature at Tamworth Airport for the past 15 years.  In that time, they have seen the Service's aircraft grow from the Bell 407, to the BK117 and now to the Agusta Westland 139.
Throughout that time, Sigma Aerospace was always on hand to provide engineering support when needed but the organisations involvement with the Service extended well beyond the provision of expert engineering services.
In 2017, Sigma Aerospace came on board as a Gold Sponsor of the annual Ride for the Chopper, assisting the Service to raise over $100,000 for three consecutive years.
Sigma Aerospace also joined the Service's Workplace Giving Program in 2018, encouraging all employees to make a fortnightly tax deductible donation to the Rescue Helicopter.
Matthew and Renee are proud to have the Service as their chosen charity, as not only is the chopper local to Tamworth, it assists anyone and everyone, with no discrimination.
"This service is essential, it saves lives every day, and has carried some members of our team to get lifesaving treatment over the years and we are so proud to support the Service. It is great to be able to use our capability to assist the Rescue Helicopter during these times', the Wheatley's said.
Whilst the COVID-19 pandemic has meant that many businesses are unable to support charities as they once have, Sigma Aerospace have committed to assisting the Service in these trying times by  donated $5000.00 worth of composite structure repairs to the Service's engineering team for important aircraft maintenance.
For the Service, the Sigma team's unique technical skills are vital to ensuring the aircraft's availability 24-7 to Service the New England and Northern West communities.
'Having a specialist engineering business like Sigma literally on our doorstep at the Tamworth Base ensures we have prompt access to professional services to keep our aircraft flying and their ongoing support, particularly in these difficult times for small, regional businesses, is something that we are most grateful for,' Westpac Rescue Helicopter CEO Richard Jones OAM said.
Sigma's $5,000 donation will be used to maintain and repair damage to vital composite components of the aircraft that include the tail horizontal stabilisers, tail fin, nose cone and other critical structural components of the state of the art AW-139 aircraft.
Photo:
(L to R) Michelle Bushell (Sigma); Pete McInnes (WRHS Engineer); Luke O'Reilly (Sigma); Jaren Kohlis (Sigma); Jamie Yeo (WRHS Crewman); Brad Stewart (Sigma); Matthew Wheatley (Sigma) and Renee Wheatley (Sigma).
Media Contacts:
Richard Jones OAM, Chief Executive Officer, Westpac Rescue Helicopter Service  Mb 0419 261 877
Renee Wheatley, Chief Operating Officer, Sigma Aerospace  Mb 0431 740 080