Singleton Volunteers Recognised with local Hall of Fame Induction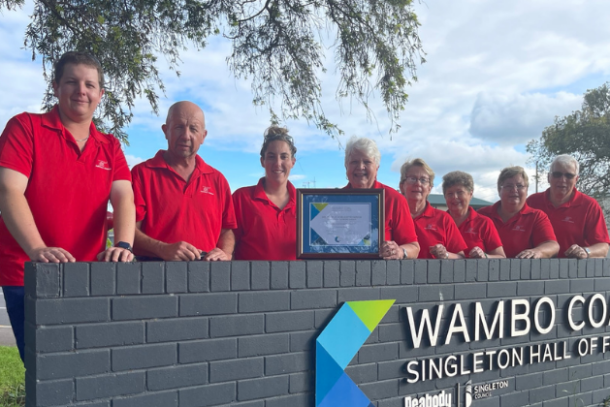 26th, November, 2021
Congratulations to the Westpac Rescue Helicopter Service's Singleton Volunteer Support Group, who last Thursday were inducted into the Wambo Coal Singleton Hall of Fame alongside two fellow community organisations and two individuals.
The group were recognised for their effort and contribution to the continued access to aeromedical services in the Hunter over the past 25 years, over which time the group has raised $1.1million.
"Being inducted into the Hall of Fame is a fantastic achievement and an honour that is well deserved for the group," said Westpac Rescue Helicopter Service CEO Richard Jones OAM.
"Our Volunteers hold a prominent and well regarded place in the community, and we couldn't be more fortunate to have such passionate "Red Shirt" volunteers that advocate for the Rescue Helicopter."
Founded in 1997, the Singleton Volunteer Support Group is a driving force for fundraising and advocacy in the local community. The group's activities include attending local community events, running weekly meat raffles, selling raffle tickets and merchandise, hosting trivia nights and most recently hosting the A-Plus Contracting Hunter Valley Mining Charity Rugby League Day, a feature of the local event and sporting calendar.
There are over 1,000 people throughout Northern NSW who proudly wear the red shirt as part of 37 Volunteer Support Groups and Op Shops, generously giving their time to raise awareness and funds, helping ensure the Service remains ready to respond 24-7.
Providing a vital emergency service for our community would not be possible without the generous support of volunteers who dedicate their time at local events, shopping centres, Op Shops, cooking up a storm at sporting grounds and hardware stores, running raffles, collecting donation tins and providing their professional expertise and time free of charge.
There are so many different ways to volunteer and we appreciate every person who gives their time to help us save lives.
For more information on volunteering, visit rescuehelicopter.com.au/you-can-help/volunteer