Thiess Digs Deep for Rescue Service Volunteers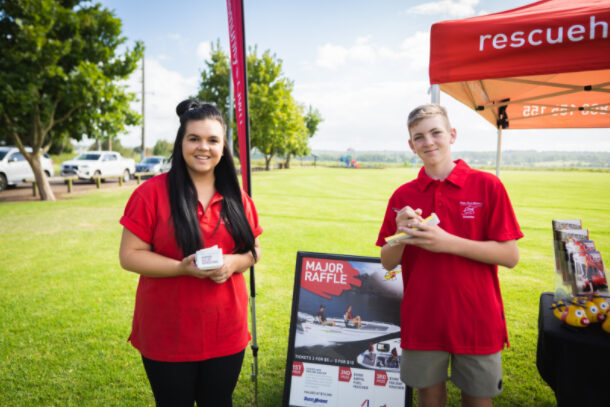 7th, March, 2022
The Westpac Rescue Helicopter Service has joined forces with mining services provider Thiess in a proactive recruitment program designed to reengage with volunteers after a two-year COVID hiatus.
COVID restrictions have severely hampered volunteer activity and the service's key fundraising events but as the service's activities and fundraising initiatives slowly come back online, the recruitment program, supported by Thiess across the Hunter, aims to both reengage with existing volunteers and attract new ones.
"During COVID we were very aware our volunteers missed their involvement with normal fundraising and event activities," Danny Eather, Westpac Rescue Helicopter Service Regional Partnerships Officer, Upper Hunter and Central West said.
"We recognised it was vital for us to reengage with these passionate and dedicated groups as soon as possible and were fortunate Thiess shared this vision."
Thiess Group Manager – Community, Diversity and Inclusion, Anthea Craig said she was eager to see the volunteers return and is acutely aware of the valuable contribution the volunteer support groups make to the region.
"Volunteers are the backbone of any not-for-profit organisation and efforts to retain and attract volunteers are essential," Ms Craig said.
"At Thiess, our purpose is to create lasting value. We're privileged to support organisations like the Westpac Rescue Helicopter Service that benefit the communities where we live and work by providing this lifesaving service."
Thiess' support of the volunteer recruitment campaign will allow the service to attract existing volunteers back, encourage new volunteers to join their local support group and deliver a volunteer conference, aimed at developing and recognising volunteering excellence in the Hunter.
As events and fundraising activities return to the Hunter community, it is anticipated the many volunteer support groups will once again be able to continue their valuable work and ensure the rescue helicopter remains ready to respond to those in need.
Apply to become a volunteer today.