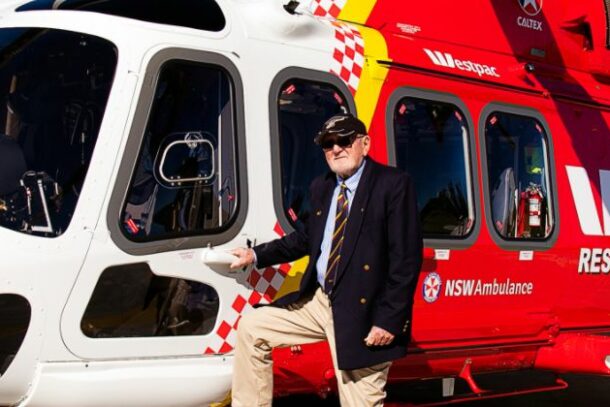 29th, September, 2021
The following is written by journalist Ian Kirkwood from our Media Partner, the Newcastle Herald and is reproduced here with permission. 
TRIBUTES have come from near and far this week after the death on Tuesday of Blacksmiths legend Cliff Marsh OAM, lifesaver, rescue helicopter stalwart and tireless community advocate.
Mr Marsh, 84, died in the Calvary Mater Newcastle from what his son, Benn Marsh, described as a rare blood cancer "that I can't pronounce".
Mr Marsh had kept a lower profile than he did during his long years as chairman of the Westpac Rescue Helicopter Service until 2017.
For decades on end before that, Mr Marsh was a regular in the pages of the Newcastle Herald, and a familiar face in the Hunter community in general.
As word of his passing spread this week, messages flooded in from old friends, both to the Marsh family and across the instantly connecting world of social media.
Tony Windsor, the former Independent state and federal MP who famously helped the Gillard minority government hold power after the 2010 election, took to Twitter to express his condolences.
"Sad to hear the Westpac Rescue Helicopter founder Cliff Marsh has passed away," Mr Windsor tweeted.
"Cliff was instrumental in bringing the Service to the North-West and New England. A great man who has left a great legacy and saved the lives of many. Proud to have worked with you Cliff."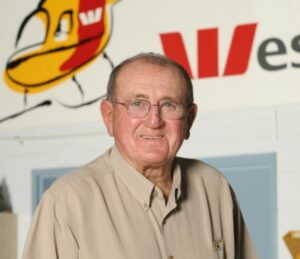 On its Facebook page, the Westpac service said: "Cliff served on the steering committee that started the Westpac Rescue Helicopter, with a Bell 47 in 1975.
"Throughout his time with the Service he saw the operation grow from summer beach patrol in Newcastle to the current fleet of four AW139s that operate from bases in Belmont, Tamworth and Lismore."
(Make that five Augusta Westland 139s – with the service announcing an extra chopper had joined the service this week, as part of the NSW Ambulance's COVID-19 response plan until mid-December, based initially in the Dubbo area.)
The rescue service eulogy for Mr Marsh continued.
"A man of great compassion and knowledge, Cliff was a local legend in the Hunter and had a love for the Service that was unrivalled. "You may have heard him speak passionately about the Rescue Helicopter at an event, or even heard him sing at the Rescue Ball, ensuring the community remained at the heart of what we do.
"Cliff was also highly regarded in the Surf Life Saving community, and a Life Member of Surf Life Saving Australia, Surf Life Saving NSW, Hunter Branch SLSA and Swansea Belmont SLSC.
"He was also an inductee of the Hunter Region Sporting Hall of Fame and Surf Live Saving Australia Hall of Fame.
His contribution to the Service and community will not be forgotten."
Mr Marsh was appointed to the helicopter board in 1991 and was made chairman in 1992. He hand over to former Sparke Helmore partner John Davis in 2017 and became the chopper's inaugural patron.
Westpac service CEO Richard Jones said the operation had grown hugely under Mr Marsh's chairmanship.
"In 1995 when I started we had about 20 full-time staff and abudget of about $3.5m," Mr Jones said.
"The workforce is now close to 130 and the budget close enough to $42 million, which is quite staggering, but it's on the back of what our board members, and Cliff in particular, have set as the standard. Very low risk appetite, safety paramount, and look after your people.
"He always put enormous trust in the management, and his words would always ring in our ears daily, be good people, and people will support you."
Lake Macquarie Mayor Kay Fraser said "Cliffy" – as he was widely known – was "a local legend in Lake Macquarie and across the Hunter Region".
"Few people in this world dedicate as much of their lives to serving the community as Cliffy," Cr Fraser said, noting his six decades of involvement with the surf life saving movement.
"He gave his time as freely as he gave his wisdom, and both were treasured by anyone lucky enough to cross his path."
Sports personality Mike Rabbitt, who retired from NBN in 2015 after 34 years with the Newcastle television broadcaster, was a good mate of "Cliffy's" and was another to mourn his passing.
"Cliffy was a person who could speak on all levels to everyone," Mr Rabbitt said.
"He was an orator who loved nothing more than finishing a night-time speech by bursting into song! He'd say "it's a lovely way to end an evening".
"He was a fine snow skier who I had the pleasure of skiing with for years, and a confidante. He was a steady hand. One of his favourite sayings was "now hang on, whoa". Stop and think.
"The Old Champion will be missed."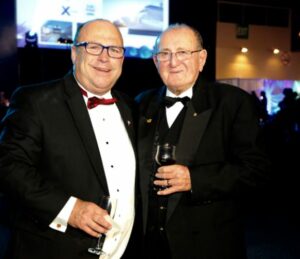 Swansea-Belmont SLSC president Graham Burge wrote a long post on the club Facebook page that recorded more than 30 of Mr Marsh's surf life saving achievements, describing him as "an absolute, complete, overwhelming dedicated member to our Swansea Belmont SLSC family/club".
"Cliff was a loving husband to Leoni, a proud father to Nicole and Benn and a doting grandfather and great-grandfather," Mr Burge said.
"He was a mentor to many, including myself as I took the reins to steer this great club.
"He lent his ear on many occasions whenever I needed him.
"He always called me before any important club event to let me know proud he was and offer words of encouragement – for this I will be eternally grateful. He was a father figure to me on many occasions."
As prominent as he was in life saving, Mr Marsh's lasting legacy lies with the rescue helicopter service.
As former Herald reporter Dan Proudman wrote in 2017:
"If the pilots, crew and medical teams are the engine, then Cliff Marsh has been the rotor blades of the Hunter Westpac rescue helicopter."
In that piece, Proudman wrote that Mr Marsh had helped the service grow from a weekend beach patrol to the modern version doing 1500 jobs a year.
"The growth and development has been by far the biggest change," Mr Marsh said at the time.
"We have only responded to the demand, that is what has caused the growth and as that demand grew so did our expertise and our equipment.
"I'm so proud of our people because that is what it was all about – people.
"I'm proud of the unparalleled support we get from the community because it is their service, it has always been their service – they own it – and it will always be their service."
Mr Marsh also paid tribute to his late wife, Leoni, who had died 13 months previously.
"I had wonderful, unwavering support from Leoni, she let me loose to do what I needed to do."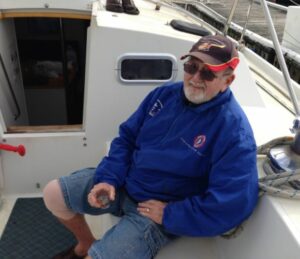 Retired coal industry figure Dick MacLean, who knew his "good mate' since they were young men working for BHP Collieries, said Cliff Marsh was a gifted all-round athlete who played first grade soccer for Cardiff when it was a first-division club, before he discovered the surf lifesaving movement, and then mixed his aquatic competition with lower grade rugby league for Lakes United.
"Cliffy had credibility," Mr MacLean said, saying he was someone who mixed easily with people in all stations of life, and who inspired confidence in those around him.
It was a personality and skill-set that helped as he stalked the offices of parliamentarians and businesses, seeking whatever it was the service needed to survive and prosper.
The helicopter service's first general manager was the late Allan McMahon, who took on the job after he finished his time as the inaugural coach with the Newcastle Knights.
The current CEO, Richard Jones, stepped into the role when Mr McMahon returned to rugby league to coach the Illawarra Steelers.
Mr Jones said Mr Marsh was "a mate and a mentor".
Remembering the helicopter service's struggles, Mr Jones said Mr Marsh was important in cementing the links between the helicopter and the mineworkers union, which remain today "even though we have branched right across Northern NSW".
"Cliff offered the service credibility, and integrity.
"He was big on integrity and would often say we only have our image and integrity, if we stuff that up, its all over.
"There was no-one else like him. An absolute legend."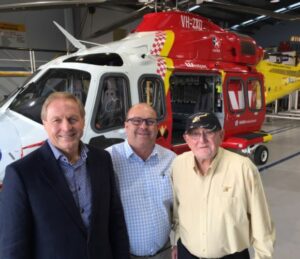 Thank you Ian Kirkwood and the Newcastle Herald.
https://www.newcastleherald.com.au/story/7452334/hunter-great-cliff-marsh-remembered-by-his-family-friends-and-colleagues/