New Chopper Takes to Skies for Regional COVID Response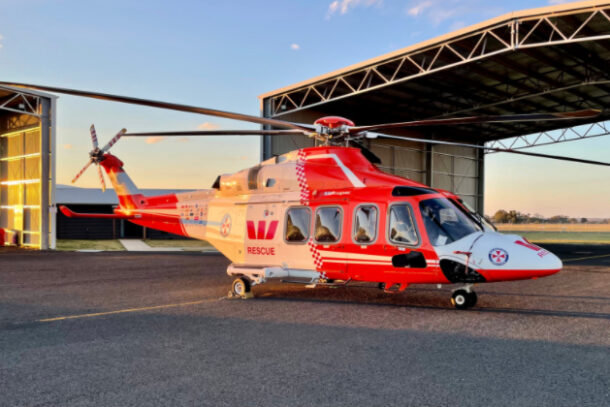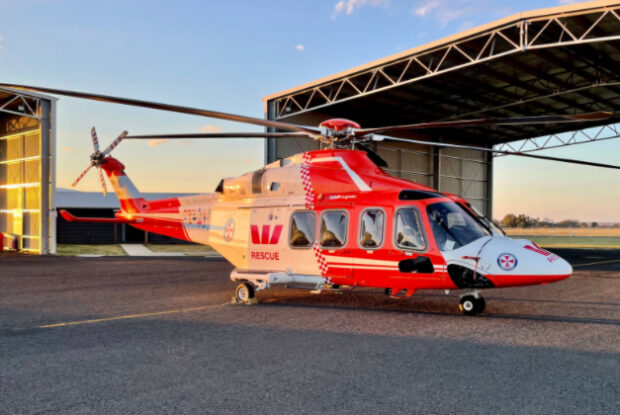 1st, October, 2021
Another AW139 helicopter is flying to the rescue in regional and rural communities as part of NSW Ambulance's COVID-19 response plan.
Funded by the NSW Government and operated by the Westpac Rescue Helicopter Service, the additional aircraft is being added to the NSW Ambulance fleet for the next two and a half months to assist paramedics as they continue to provide first-class care to patients across regional and rural NSW during the outbreak.
NSW Ambulance Commissioner Dominic Morgan said the extra aircraft was part of the organisation's surge planning to respond to the current COVID-19 outbreak.
"In response to the evolving situation, we surged our workforce and resources to have more paramedics, call-takers, ambulances, fixed wing aircraft and now helicopters available to respond to the community," Dr Morgan said.
"We're very proud of our long-standing relationship with the team at the Westpac Rescue Helicopter Service and we're grateful they've been able to mobilise this expansion so quickly and professionally."
The helicopter will initially be based in the Dubbo area which means it is ideally situated to respond to anticipated inter-facility transfer demand from remote regional communities in the state.
Richard Jones OAM, CEO of the Westpac Rescue Helicopter Service said this additional investment by the NSW Government would be very welcome in regional NSW.
"Often it's our pre-hospital emergency flights that are the most visible and therefore the best known missions that we fly, but Inter Hospital Transfers can often make a life-saving difference as well," Mr Jones said.
"The additional aircraft does not change the scope of work we are currently available to deliver, but it provides extra capacity to ensure regional communities are looked after in this time of need."
The additional aircraft is being leased until mid-December and is now available to be tasked to missions.
Westpac Chief Customer Engagement Officer, Ross Miller, said Westpac is proud to support the Westpac Rescue Helicopter Service to operate an additional helicopter which will assist regional and rural NSW communities.
"Westpac has a longstanding partnership with the Rescue Helicopter Service, recognising the incredible and lifesaving work the team provides for Australian communities every single day," said Mr Miller.
In 2021-22, the NSW Government is investing $1.4 billion in NSW Ambulance. $214 million will be spent establishing a new State Operations Centre at Sydney Olympic Park, adding jet aircraft to the ambulance fleet, converting 246 paramedics into Intensive Care Paramedics and purchasing 1,291 new state-of-the-art monitor/defibrillator units."